The focus of Knappster Solutions LLC™ is check printing software. Our products CheckBuilderPro™ and its add-on BatchBuilder™ are available for both Macintosh® and Windows®. We're excited about The CheckPrintshop™, our latest product, available for Windows® 7 and later. It is specifically designed for commercial check printers. For more information about these products, follow the links to the respective web sites. If you have any questions, just let us know.
CheckBuilderPro3™ – Check Printing Software For Macintosh® and Windows® is our consumer check printing program. This app is great for home and small business use. You can print blank checks for use in other programs, print on pre-printed* checks or print complete checks in one pass on blank check paper. The Mac version is 64 bit to meet Apple's requirement. The Mac version requires macOS 10.9 or newer and the Windows version requires Windows 7 or newer (Windows 10 recommended). Visit CheckBuilderPro for more info.
*Pre-printed checks must be in sheet form, 8.5 x 11 (you cannot print on checks torn from a checkbook). Business checks must be perforated at 3.5″ and wallet-style checks must be perforated at 2-7/8″ in order to work.
BatchBuilder™ – An add-on product for CheckBuilderPro™. If you track payee data in a spreadsheet and need to print checks for them, we've made life much easier for you! Just export your spreadsheet to a csv or tab file. Then drag and drop it into BatchBuilder™ where you set the "data designators" – assigning each column to its appropriate designation as payee, amount, etc. BatchBuilder then feeds the data into CheckBuilderPro™, automating the check printing process. No more re-typing all those payees!
BatchBuilder is an add-on product and requires CheckBuilderpro. Affordably priced, it could pay for itself with just one use! Get more info about BatchBuilder.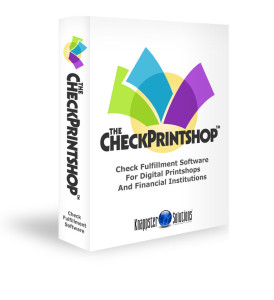 The CheckPrintshop™ is our commercial check printing software for print shops, copy centers, banks, credit unions, CPAs and bookkeepers. It's a page layout program for checks, allowing you to re-create almost any laser-style check out there. It comes with over 50 pre-designed check templates to get you started. Available for Windows only.
The CheckPrintshop™ allows you to add check printing to your current offering of products and services. Visit The CheckPrintshop for more info.